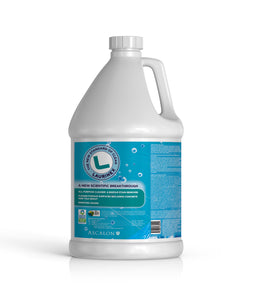 Laurinex All Purpose Cleaner — 1 Gallon Bottle
Regular price $47.50 Sale
Laurinex lets you stand out with truly clean results, using only the power of plant-derived ingredients. Customers will notice the stain-busting power on floors, carpets, clothing, fabrics, interiors, exteriors, household surfaces and office environments.
Laurinex is effective at removing biofilm, the layer that protects stains from the outside environment, yet is made with plant-based materials. It's so safe you can use it indoors and out, rinsing with just water.
Remove biofilm stains safely from:
✔ Tile and grout
✔ Flooring
✔ Carpet
✔ Fabric
✔ Clothing
✔ Brass and metal surfaces
✔ Countertops
✔ Equipment
✔ Food preparation surfaces
✔ Cutting boards and kitchen environments
✔ Garbage disposals
✔ Outside surfaces
✔ Concrete
Ingredients
Distilled Water, Citric Acid, Potassium Cocoate (Coconut Soap), Laurate Mixture.
Laurinex uses only USDA Organic, therapeutic-grade, 100-percent pure, aromatherapy essential oils.
Organic Lemon Eucalyptus (Citrodora) Essential Oil. Yes, you read that correctly! Organic Lemon Eucalyptus (Citrodora) Essential Oil is an actual tree that is native to Australia, Vietnam, and Madagascar, but it is also grown in India, South Africa, Guatemala, Egypt, Colombia, Indonesia, and Albania. The Eucalyptus Citriodora tree has smooth, pale, uniform, slightly mottled bark, which is white to coppery in the summer. It has a conspicuously narrow-leaved crown which smells strongly of lemons. The strong lemon and mint scent makes it one of the more revered oils in the Eucalyptus Essential Oil family.